Posted on by Laura
Everyone has heard the phrase 'music demo' – it is one of the most commonplace tools used by artists for a number of different purposes. In this blog we'll look at what is a demo in music, answer the question of "where can I send my music demos?" and also cover off best practices for making a music demo. 
What Is A Music Demo?
As you might have guessed, demo music is a 'demonstration' of your music – essentially it's a recording that you can provide to interested parties to showcase your work and what you do. Demos are not typically full-production recordings, they tend to be slightly simpler in their arrangement and are produced a little quicker than full scale recordings intended for release to the public.
 Do Music Demos Matter?
The truth of the music business is that there are lots of artists all trying to catch the attention of labels, agents, managers, venues and anyone else who works with musicians. A good music demo is the best way of communicating who you are and what kind of music you are making so those interested parties have something to reference when you approach them. 
Why You Should Make a Music Demo 
#1 – It's easier to remember your ideas
If you're a songwriter honing your craft or working with a lot of other songwriters, making demos allows you to build a catalogue of ideas that you can go back to, so you don't have to hold everything in your head.
#2 – It's easier to collaborate
Sometimes the best way to write a song is to get in a room with someone else and thrash it out until something pops out the other side. But these days, writing is often a multi-stage process involving lots of different people with different areas of responsibility. 
Making demos allows you to share ideas with other people. Whether you have an instrumental track you're sending to a vocalist for a top-line or whether you have a hook and you're looking to involve someone else to craft a beat or add a middle 8. Making demos of ideas as they progress can be really useful.
#3 – It makes recording easier
Many artists make demos during the writing phase before they go into the studio to make their full-production record. The Outlaw Orchestra are a good example of this – they have talked a lot about how made demos of every song on their latest album in their home studios as part of the writing process. 
This allowed them to make creative choices about the songs and how they'd be recorded (simple choices like key, BPM, song structure, etc.). Plus share the work with their producer so he understood their vision before they went into the studio where time is money.
#4 – Demos capture the moment.
Writing is often a fairly emotion-heavy process, and when a song is first written the emotions are much fresher, which often means that if you make a demo you are more likely to capture that emotion in its most raw form. There are lots of examples (including with Phoebe Bridgers, the Arctic Monkeys and Billie Elish) where the demo vocal has ended up on the final recording for this exact reason.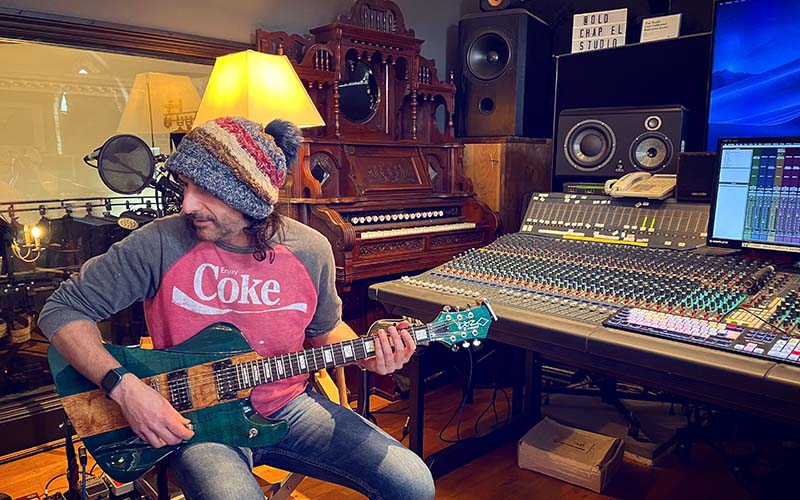 #5 – Interested parties and potential partners use demos to understand where an artist is
This is probably the most common use of the music demo. Record labels, Management agencies, venues and all sorts of other potential partners will use demos to consider who they want to work with.
#6 – You can track your own development
The great thing about recording demos is that you have an accurate track on how you are progressing as a songwriter, musician and artist. Revisiting old demos can help you understand what worked for you previously and it gives you something tangible you can use to gauge how new artistic directions and areas you have explored have worked for you. This technique has helped artists like Lana Del Rey and Lady Gaga shape and refine their artistic output.
How to Make a Music Demo
While a demo track doesn't need to be a full-production endeavour, a good music demo submission will make all the difference to the listener – whether that's you at a later date, a collaborator or a potential partner in the business side of things – so it's important to try to make the demo as good as possible (ideally without spending much as you want to save your budget for tracks that will be commercially released).
The great news is that it's pretty easy to make a good demo with some basic equipment. There are a number of free recording softwares out there including GarageBand, Audacity and Ableton and a lot of basic recording equipment comes with a free version of some pro recording software like Pro Tools.
If you're just starting out, I'd recommend something like the Focusrite Scarlet 2i2 interface. This is a fantastic, relatively low-cost, little recording interface that is super portable and reliable and allows you to record up to 2 audio tracks simultaneously. It is also available as a bundle which includes a mic, headphones, mic stand, lead and Ableton Live which is the software you can use to record.
Once you have your equipment, start experimenting. Start by just pressing record and playing your songs to the microphone. As you get more familiar with the software you can start adding effects, other instruments and get more into the recording side of things. This has the added benefit that you understand the recording process which means that when you finally get in the studio to record a full production version of your music, you know how it all works.
Where Do I Send My Music Demo?
Music Demos are great for all sorts of applications. Once you have made your demos, it's a good idea to play them to some friends and family who can give you honest and constructive feedback. As we said earlier, whilst a demo doesn't have to be a full production recording, you want it to sound as good as possible, especially if you are sending it out to labels, publishers or managers for consideration. These kinds of companies receive lots of demos every single day from all sorts of people and so a low quality demo puts you at a bit of a disadvantage straight away.
Once you're satisfied that your demo is good, you can send it out to venues and promoters for consideration for booking gigs. You can also send them out to labels, publishers, management and booking agents for consideration. It is always best to check the demo policy before sending your material out, a lot of labels won't accept what they call unsolicited demos (demos sent in without any prior agreement or relationship), but if they do, they often have specific ways of accepting material.
Another good tip is to make sure you are sending your material to the right kind of partner. If you make electronic music, sending your demo to a label that specialises in metal will not gain any traction, so do your research and try to send to companies that you think are best placed to work with your music.
That Was Our Music Demo Guide
Making demos is a really fun process and as you get more into the recording side of things it can open even more doors for you. The key thing is to enjoy what you do and take note of your ideas. Remember, there's nothing wrong with the cutting room floor – just because a demo doesn't find a home straight away doesn't mean that there isn't the kernel of a great idea in there. Those chorus chords or a lyric or a vocal melody could always become relevant to something later on so keep your demos and refer back to them so you know what's in your catalogue.
Showcase Your Talent
Our TeenStar competition applications are now OPEN. Apply here! TeenStar is the biggest search for teenage and pre-teen singers, with prizes and opportunities for young artists looking to develop their talent. With industry judges including TV scouts, Record Label A&R, Management companies and more, TeenStar is a great place to for young artists to get started in the industry and auditions are open right now!