Posted on by Laura
If you've ever heard a choir sing, you'll know it can be a really moving and powerful experience. But what actually is a choir, and which are the most famous choirs in the world?
Well, a choir can be defined as a musical ensemble of singers. Choirs may perform classical music from the Medieval era to the present or even popular music. Most choirs are led by a conductor who leads the performance with their arm, hand, and facial gestures. 
Now let's discover the different types of choirs and see which are the best in both the UK and worldwide.
Famous Children's Choirs
The sound of a children's choir singing must be up there with one of the most beautiful and calming things you could listen to, which is why they are famous worldwide.
These are thought to be the top 10 children's choirs in the world:
Children's Choir 'Alye Parusa' – Russia

Guangzhou Little Petrel Children's Choir – China

University of Houston Moores School Concert Chorale – USA

Tygerberg Children's Choir – South Africa

Kamerniy Devichiy Khor by Lysenko – Ukraine

Seisen High School Choir – Japan

Guangdong Experimental Middle School Choir – China

Shenzhen Senior High School Lily Girls Choir – China

Stellenberg Girls Choir – South Africa

Cantamus Girls' Choir – Great Britain 
Famous Welsh Choirs
There are many famous welsh choirs however, welsh male choirs seem to have the best reputation. There are thought to be over 100 male choirs in Wales today, many free of charge with weekly or even twice-weekly practices. 
Here are three of the most highly regarded welsh male choirs:
Morriston Orpheus Choir

– Formed in 1935, the Morriston Orpheus Choir is in high demand all year round. The Choir undertakes performances on television, at national and promotional events and provides corporate and after-dinner entertainment. 

Cardiff Arms Park Male Choir

– The Cardiff Arms Park Male Voice Choir was founded in 1966 and has been entertaining audiences for over 50 years since with frequent TV and Radio appearances, as well as national and international concert tours, Charity performances and weddings.

Treorchy Male Voice Choir – For 130 years the Treorchy Male Choir has been recognised as one of the greatest choral ensembles of all time. The famous choir have had regular radio and television broadcasts, feature films, commercial recordings, not to mention toured around the globe.
Famous American Choirs
The number of Americans singing has increased over the past decade, with now over 54 million adults and children participating in choral groups. That means more than one in six Americans over the age of 18 sings in a chorus. 
Here are two of the best American Choirs
The Tabernacle Choir

– Formerly known as the Mormon Tabernacle Choir, was founded in Salt Lake City in 1847 and has become a foundation for US choral tradition. The choir have performed at several US presidential inaugurations including those of Richard Nixon, Ronald Reagan, and the present incumbent.

The famous choir has around 360 members making it one of the largest choirs of all time.

Mississippi Mass Choir

– Set up by Frank Williams in the late 1980s and is now directed by Jerry Mannery. Jerry's gospel ensemble have won countless awards and showcased their talents both at home in Jackson, Mississippi and abroad including singing for Pope John Paul II when on tour in Italy.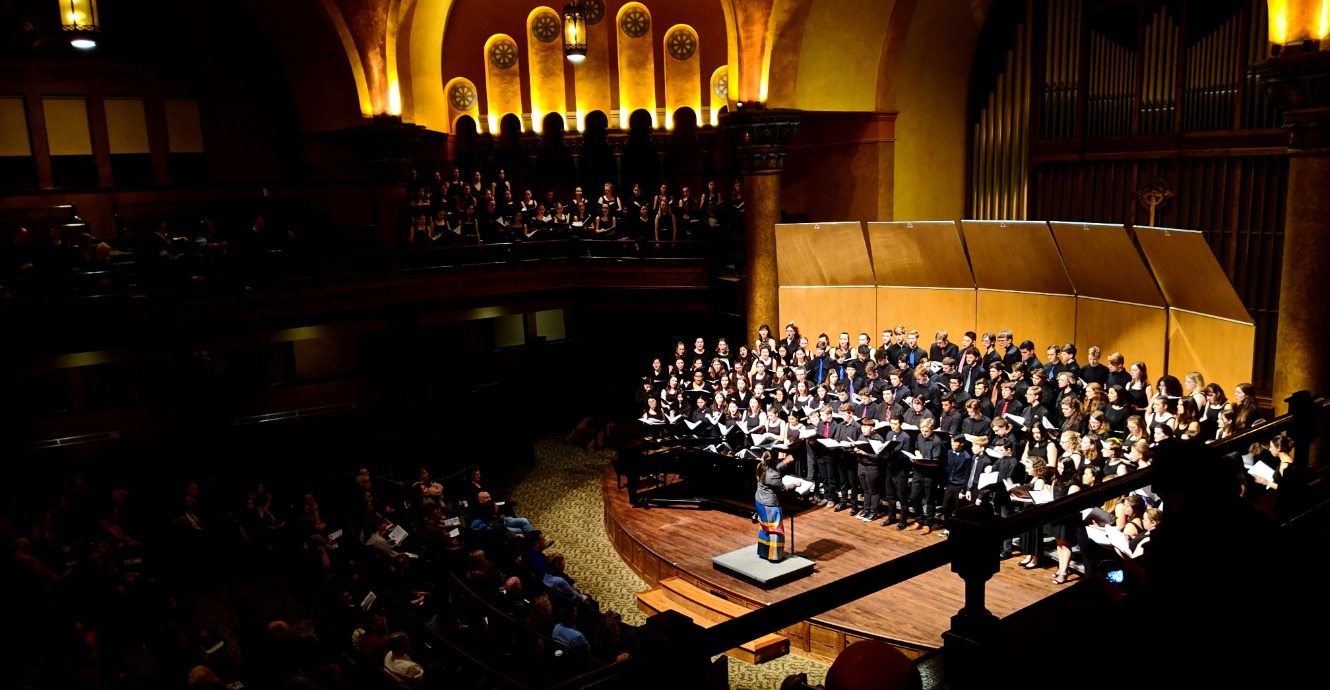 Famous British Choirs
Music for divided choirs was first developed in the early 16th century in England and reached a peak of excellence in the late 16th- and early 17th-century. Since then, Britain has been home to some incredible choirs, including:
Choir of King's College, Cambridge –

This choir is thought to be one of the most famous in the world, thanks to their immediately recognisable sound and being featured on BBC's Radio broadcast of its Festival of Nine Lessons and Carols every Christmas Eve. The choir has been around since the college's foundation in 1441 however it was in the 1960s – under choirmasters David Willcocks, Philip Ledger and Stephen Cleobury – that its popularity increased rapidly. Watch a wonderful performance of theirs

here

.

St Paul's Cathedral Choir

– St Paul's Choir is renowned for hosting the wedding of Prince Charles and Lady Diana Spencer in 1981. Cricketer Alastair Cook and actor Simon Russell Beale are among the former trebles to have been beneath the building's famous dome.

The Sixteen

– Despite the name, The Sixteen don't always perform with 16 singers. It was given that name because that was the number of friends who first got together when the group was assembled by conductor Harry Christophers in 1977. Today, The Sixteen has nearly 100 discs under its belt, and its regular 'Choral Pilgrimage' concert tours around the UK and beyond are sell-out shows.

Tallis Scholars

– In 1973, Peter Phillips founded the Tallis Scholars which, as the name suggests, focused on studying and performing Renaissance repertoire. Nearly 50 years and countless best-selling discs later, Phillips and his singers are still one of the best choirs in Britain.

Choir of Trinity College, Cambridge –

Oxbridge college choirs featuring boy trebles on the top line – notably King's and St John's in Cambridge and New College, Magdalen and Christ Church in Oxford have an impressive reputation. Nowadays, however, those comprised entirely of students, with female sopranos and altos who have started to share the spotlight.
Famous Black Choirs
These are some of the most notable black gospel choirs:
Mississippi Mass Choir

– The choir has won numerous awards whilst performing all around the world, watch an amazing performance of theirs

here

.

Brooklyn Tabernacle Choir

– This is a Grammy award-winning choir led by Carol Cymbala.

Kirk Franklin and the Family

– An extremely popular choir formed by the father of contemporary gospel. 

Donald Lawrence & The Tri-City Singers

– This well-loved group is led by the former vocal coach of En Vogue.
Famous Female Choirs
A few famous female choirs include:
Mädchenkantorei Limburg

– A group at the Limburg Cathedral founded in 1971, are associated with ecclesiastical organizations. 

Mädchenchor Hannover

– Is an award-winning choir of girls and young woman founded in 1951 in Hanover.

Anna Crusis Women's Choir

– Is the oldest feminist choir in the U.S. founded in 1975.

Melodia Women's Choir

– This choir was founded in 2003 to promote new music.
That's Everything You Need To Know About Famous Choirs 
We hope you've found it interesting reading about the most famous choirs in the UK and worldwide!
Showcase Your Talent
Our TeenStar competition applications are now OPEN. Apply here! TeenStar is the biggest search for teenage and pre-teen singers, with prizes and opportunities for young artists looking to develop their talent. With industry judges including TV scouts, Record Label A&R, Management companies and more, TeenStar is a great place to for young artists to get started in the industry and auditions are open right now!